Tuition: $2800*
What does this get you?
7 weekends of training (that's 13 days of in-person training with found Lior Tsarfaty) at which point you can start your full-time, lucrative career of working with memory care patients using our proven method.
* if application submitted by July 1
Village Song Fall 2017 Interest Form
Take the first step to your new career opportunities!
Tuition
Regular Tuition: $3500; application must be received by September 1, 2017
Early Registration Discount: $2800 if application is received by July 1, 2017 
Group Discount: A $1000 discount off the full tuition of $3500 is available to individuals applying together in groups of four or more. To qualify for this discount, all application fees must be paid and all completed applications must be submitted together in one email or envelope by July 1, 2017.
Group discounts cannot be combined with any other discounts, including the early enrollment discounts.
Tuition balance is due by September 1, 2017 unless a payment plan has been agreed upon between Village Song and the student prior to the training start date.
Payment plans are available. After paying a $400 non-refundable deposit to hold your place in the training, you can either make 3 payments in September, November, and January or 7 payments beginning in September and ending in March (a $10 administrative fee is added to each transaction). Students must complete all payments before the last training weekend begins. All students will be required to sign a contract agreeing to the financial conditions of the training.
PayPal, VISA, Mastercard, American Express, and check are accepted.
Cancellation Policy
Cancellations accepted via email or phone. Students who withdraw before the first day of training will receive a full tuition refund less the $400 non-refundable deposit. Students may withdraw up to 9 days after the first day of the training and receive an 80% tuition refund. No refunds will be granted after that date or for any future non-attendance.
To Apply for This Training
Click here to download the application form.
Click here to pay (or mail check to address below) the $75 non-refundable application processing fee.
Submit your completed application via one of the following methods:
PREFERRED METHOD: Email your application form to contact@villagesong.com
Mail printed application to:
Village Song
Lior Tsarfaty
PO Box 2993
Berkeley, CA 94703
Final application deadline:  September 1, 2017
For More Information
For registration questions or further information including accommodation for special needs, please call Village Song at 510-558-8396 or email contact@villagesong.com.
Application Process
A Skype meeting with Founder Lior Tsarfaty
A completed application including recent photo and resume/curriculum vitae
A non-refundable application fee of $75.00
Tuition paid in full or payment plan setup by September 1, 2017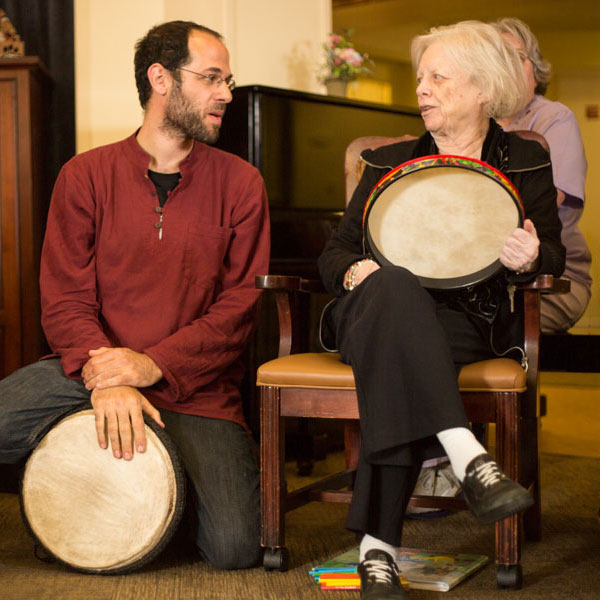 You can't help but be touched by the transformative powers of music and the sense of community that transpires when Village Song is here. Seeing the circle of smiles on the faces of our residents says everything. Karen Smith