"Lior's groups are pure magic and unlike anything else we offer. Everyone leaves in a better state of mind then when they arrived. We love making music with Lior!"
Ashley Gravatte
Lior Tsarfaty
Musician, Teacher, Founder
An international touring musician and recording artist, Lior has always viewed music as more than entertainment. For Lior, it's also been a profound source of healing. So when he left his native Israel in 2009 to study in California, it was to deepen his understanding of music as a vehicle for transformation.
As a student at the California Institute of Integral Studies, Lior enrolled in the Voice Sound and Healing Music Program. He also explored the field of body-oriented psychotherapy, attending the Hakomi Institute of California.
After finishing these programs, Lior applied what he learned as an assistant to renowned Bay Area singer-songwriter-teacher Jennifer Berezan, helping Jennifer with her class "The Healing Ecstasy of Sound." At the same time, Lior broadened his scope by working with a wide range of spiritual organizations, teachers and artists, including Chochmat Halev, a Jewish renewal spiritual center; Patti Cathcart (of Tuck and Patty) and Roshi Norman Fisher.
Having been a journalist and radio broadcaster in Israel, before coming to the U.S., Lior set about employing music as a tool for peacemaking and, in 2014, released his debut album "Lior Tsarfaty & The Prayer Songs Project," which brought together—in perfect harmony—Israeli, Moroccan, Indian, Canadian and American musicians. His second album, which he hopes to release soon, is a collaboration between Israeli and Palestinian musicians.
Over the years, Lior has used the healing power of music to make a difference for the homeless, for kids, for hospice patients, and more recently for elders. Five years ago, he began taking his music to Alzheimer's communities in the Bay Area, and the response has been overwhelming.
Village Song is the logical and spiritual culmination of all Lior's done, as one thread has run through his vibrant life, and that is a commitment to music as a powerful instrument for change and healing.
Tim Johnson
Certified Dementia Practitioner, Community Life Director
In 2008, with a background in musical theater arts, Tim acted on a lifelong desire and began working in elder care. Since then he's constantly expanded his knowledge, particularly of memory care and, in May 2014, became Community Life Director at Bayside Park in Oakland, California. Tim acknowledges that working in memory care is challenging but is adamant that the daily rewards and blessings far outweigh any trials.
Save
Redwing Keyssar
Director of Palliative Care
For 25 years, Redwing's been at the forefront of the palliative care evolution. Trained as a nurse, she's long acted as a midwife to the terminally ill, and she continues to do so in a directive role at Jewish Family and Children's Services. An author, teacher, national presenter and frequent contributor to public debate, Redwing explores the juncture between personal relationships and impermanence with the hopes of changing our healthcare system to better serve us all at the end of life.
Afia Walking Tree, M.Ed
Educator, Facilitator, Ritualist
Born and raised in Kingston, Jamaica, Afia's empowering work is fed by a tradition of drum songs and prayers of gratitude. She's the founder and director of Spirit Drumz, an international organization that uses African Diasporic song, permaculture, drumming, dancing and storytelling to heal and empower women and youth of all cultures. Over the years, Afia's partnered with organizations such as One Billion Rising, Qilombo Oakland and Black Lives Matter. She's also spoken and performed at Bioneers, TEDWomen and many other venues.
Christine Stevens
MSW, MT-BC, MA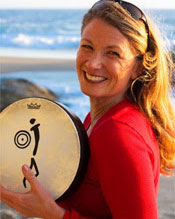 The author of Music Medicine, The Healing Drum Kit and The Art and Heart of Drum Circles, Christine has a master's degree in both social work and music therapy. As the founder of UpBeat Drum Circles, she's made numerous appearances on national television and has trained thousands in the evidence-based REMO group drumming program, HealthRHYTHMS, working with Fortune 500 companies, Katrina survivors and students at Ground Zero. Most recently, she led the first drum circle training in a war zone, in northern Iraq.